Message from Top Manager
INNOTECH provides comprehensive solutions ranging from hardware, software to consulting and support our customers' activities from development to manufacturing as well as contribute to the abundance of our society through our customers products realized by such solutions.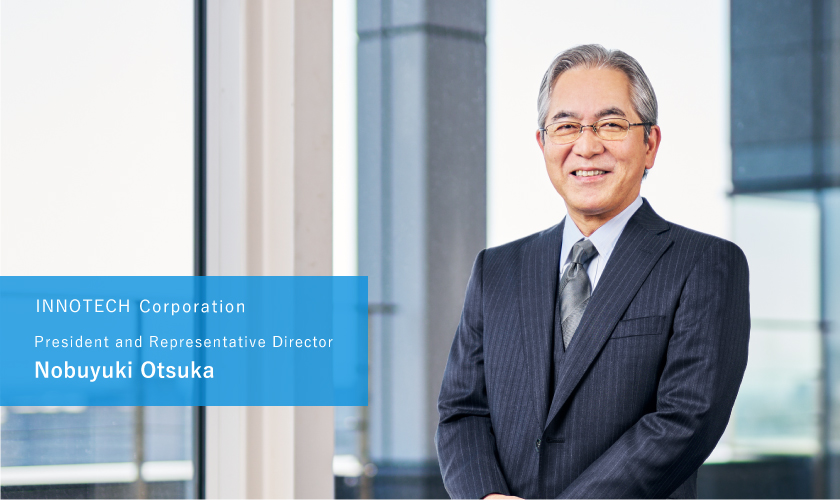 INNOTECH CORPORATION founded in 1987. At the time of foundation, our slogan was "to cooperate and grow together with the US and European companies" and we have conducted and expanded our business as a technology product trading company, introducing cutting-edge technologies from the US and European companies to the Japanese domestic electronics companies.
Since the year 2000, INNOTECH has started to engage in the business of its internally-developed products as well, leveraging its technical know-how and knowledge, strengthened its existing business and/or expanded its business domains by active M&A's and investments. Thus, INNOTECH has evolved itself to a total solution company, covering from hardware, software to consulting to support our customers' design, development and mass production activities, up to introduction of their final products.
As we enter into the era of IoT (Internet of Things) society where every product is connected with each other via network, our customers' challenges are becoming more complex and diverse. As our business environment changes dramatically, in order for INNOTECH to grow further, we must have a mid-long-term vision, and focus our management resources into precise areas where our expertise lies.
30 years passed since INNOTECH founded, and we pursue our business structural reform as we enter into what we see as the "second phase of our foundation period". We are transforming our business structure from three perspectives and improving our business schemes in line with our business environment.
Our first transformation is "From Product Business to Solution Business", our second transformation is "From Domestic Business to Global Business", and the third transformation is "From the Semiconductor Market to the Final Product Market".
Leveraging these "Three Transformations", INNOTECH will continue to grow further. Please look forward to the future of INNOTECH, as we strive forward to the new business areas beyond our business frontier as a traditional technology product trading company.
President & CEOToshihiko Ono
Related Links