Medium-Term Vision

Where are we now in terms of progress in the mid-term management plan, taking into consideration of the current business environment?
While we observe the current situation of the semiconductor market in Japan, we have been withdrawing from low-growth businesses and shifting our gear to new businesses.
While INNOTECH is active mainly in the Japanese semiconductor market, its business condition is getting tougher and tougher these years. Especially, with our traditional distribution business; we can no longer escape from a fierce price competition as the market matures, and we realize the difficulty of securing our profits on a constant basis. Under such recognition, in our mid-term management plan, we are pursuing "three transformations" as indicated in the chart below. Its essence is to concentrate and invest in our management resources to the specific areas where INNOTECH group can make most of its expertise, so that we can enhance and keep expanding our overall profitability.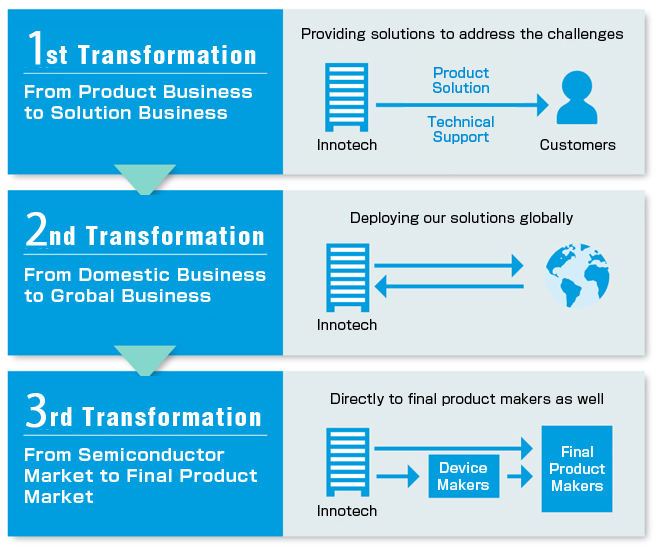 As for our progress, we have reviewed our businesses, and we have withdrawn from the semiconductor chip distribution business last year, as well as transferred our HDD distribution business this year. On the other hand, as for the growth of new businesses, it is taking more time than we have expected.
Our numerical goals of the mid-term management plan are established, taking into account of both negative figures from our business reorganizations and positive figures from the growth of our new businesses. Currently, the negative figures are visibly leading and it might raise concerns among our stakeholders. But, we expect to announce our positive results in the latter part of FY2018, which is the final year of our mid-term management plan.
How are we making progress in terms of penetrating the global market?
With our new business partners, we are accelerating our participation in the semiconductor market in China, which is becoming the main semiconductor market.
As we have been shifting our target "From Domestic Business to Global Business", we recognize that our focus should be the Chinese market, which is becoming the center of global semiconductor business these days.
As we all know, in order to perform successful business in China, good business partners who know well about the country, culture, and people are indispensable. As for the test business, we have already participated in the Chinese market by leveraging the network of STAr Technologies, Inc. which is our subsidiary in Taiwan, Also, in the second quarter of FY2017, we have announced our capital and business partnership with CVP Holdings Limited, which is actively investing in China. By this, we believe that our presence in the Chinese market for test systems will expand rapidly, and we will keep penetrating the Chinese market for other businesses as well. For example, we will propose highly competitive technology businesses to Chinese companies for the areas which are growing in China, such as development of devices for electric vehicles and drone sensors.
What is our concrete strategy in "Creating Profitable Businesses"?
Key to profitability is to participate in the upstream of the manufacturing processes, leveraging our strong technical expertise.
A company which constantly expands its profitability has a highly-added-value business model so that it can stay away from a price competition and has a technical superiority that nobody can follow and imitate. And we are pursuing our transformation "From Product Business to Solution Business" to achieve such superiority.
Our concrete strategy for that is to strengthen our development solutions mainly around the embedded software unit test tools for automotive applications. In the environment of automotive development in Japan, the model-based development is the main-stream, and the test tools for such model-based development contributes to the improvement of development efficiency by testing whether the designed software satisfies specification requirements, utilizing a computer simulation, thus eliminating the prototyping for actual machines. However, such test tools require specific know-how to utilize. INNOTECH Group provides technical support by the dedicated engineers along with the test tools, so that we can participate in the upper stream of the development processes.
Also, the model-based development can be deployed to any other manufacturing industry, not just automotive industry. In the second quarter of FY2017, we have announced our capital participation in the seven dreamers laboratories, Inc. This is a good example of merging their manufacturing expertise with our capabilities to assist in software development, accelerate new product development, and pursue our transformation "From Semiconductor Market to Final Product Market".
Please tell us about the future management policy to promote the structural reform?
While our business environment remains tough, we will further review and reconsider our business portfolio in-order to evolve as a highly profitable company.
As we enter into the final year of our mid-term management plan next year to achieve its numerical goals and based on the necessity to devise and implement the next mid-term management plan, we believe that we need a further advanced structural reform.
Therefore, we are currently evaluating each of our businesses from the profitability point of view, such as operating profit ratio, and from the future growth potential point of view, such as prospective in the foreign markets. Based on such evaluation results, we will review and reconsider how optimally distribute our resources, which may include decisions to further withdraw from certain businesses.
In addition, as per the improvement of our ROE, which is one of the objectives of the mid-term management plan, we will further expand our profitability and implement appropriate capital policy, taking the business structure changes into consideration. Please look forward to our future results.
December, 2017
President & COO Toshihiko Ono