Medium-Term Vision

What are the achievements and future challenges so far as we completed the second year of our mid-term management plan?
While we execute our strategies steadily, we will continue our efforts on the digital transformation (DX) which is accelerated by the COVID-19 pandemic.
The FY2020 started in the middle of COVID-19 pandemic and we were affected by it, more or less, depending on the business areas, but we were able to achieve year-on-year increased sales and profit as a group. I believe that this is because our strategies from the mid-term management plan is making good progress.
Our internally-developed test systems and the cloud settlement system by IT ACCESS contributed to the results of the FY2020. These are the achievements from the strategies 1, 2 and 4 of the five strategies from our mid-term management plan. Also, as for the strategy 3, we were able to acquire new customers, such as a large-scale memory maker in China. This new customer base is expected to substantially contribute to our results in the FY2023, which is the final year of our current mid-term management plan.
On the other hand, the COVID-19 pandemic has triggered various transformations, such as the way of marketing and sales activities are carried out as well as the way we work. Among them, our biggest challenge is that we cannot hold trade shows which had been the main places for us to establish contact with new customer prospects and we must rely on sales activities on-line. We continue to seek the better and more efficient way of sales activities, utilizing various tools, under the current state that we cannot meet our customers directly. As for education of human resources, we have organized a personnel education task force across the entire company three years ago. And since the task force has been preparing for on-line training and education, we were able to switch a part of our OJT (On-the-Job Training) programs to on-line training.
We believe that the Digital Transformation(DX )is indispensable for our company to enhance our competitiveness and improve efficiency in our operation and we will keep our consideration on the subject in an aggressive way.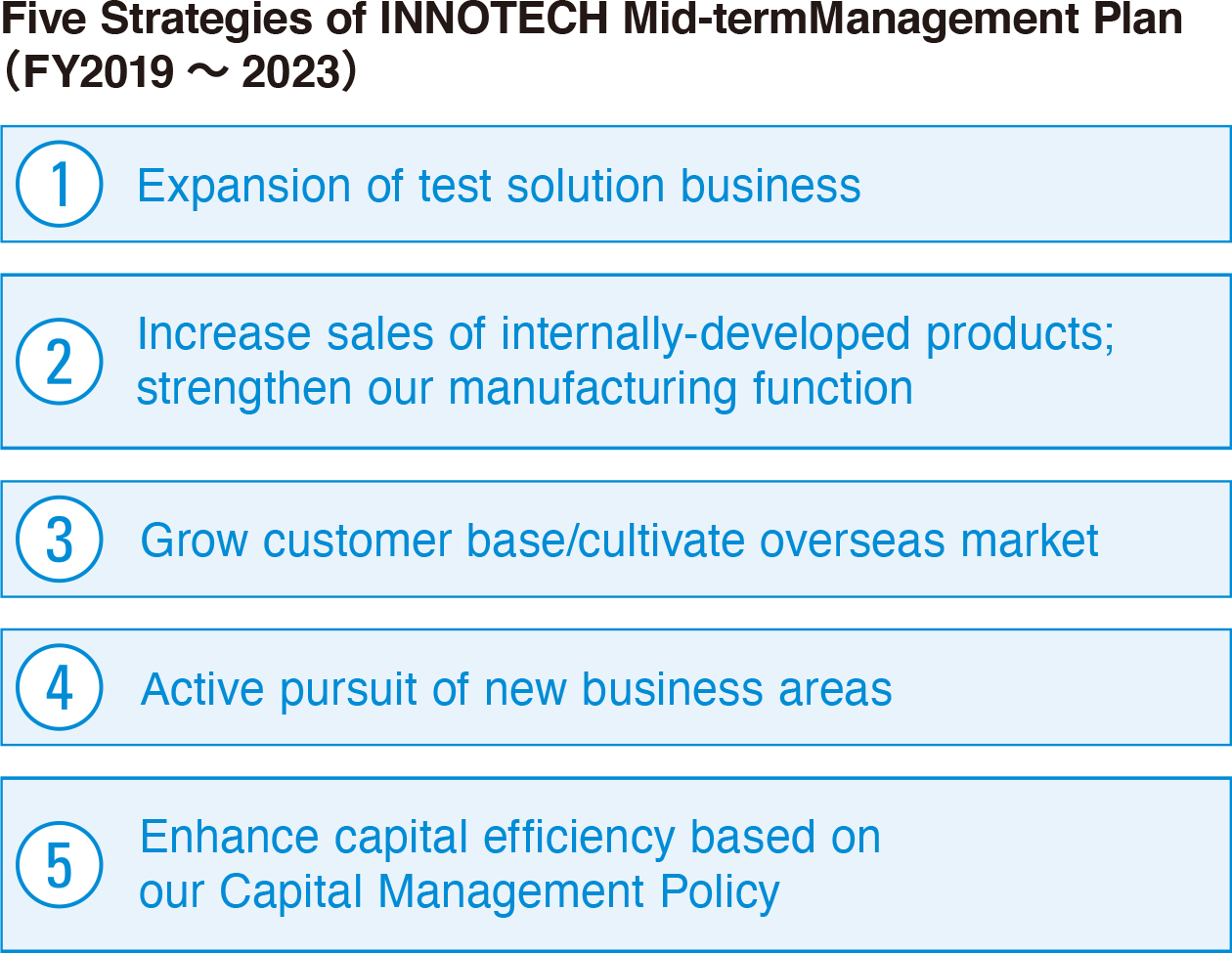 Where are the areas of focus and new efforts for our future business growth?
We will aim to create synergistic effects by collaboration among our group companies by reorganizing our business segments.
From the FY2021, we start two efforts for our sustainable growth; first is the formation of the ESG*1/SDGs*2 Promotion Meeting. In modern society, companies are required to contribute to the society through their business activities. Also, we will find new business opportunities by turning our eyes to social challenges and devoting ourselves to resolving them. Through the ESG/SDGs Promotion Meeting, we will confirm our directions to take for each of our businesses and as INNOTECH group entirely from the ESG and CSV*3 viewpoints.
Our second effort is the reorganization of our business segments. We will review our business segments which were traditionally divided into two and make them three. INNOTECH has promoted M&As whose objective is to deploy new businesses to strengthen our existing businesses or to leverage our expertise and we believe that we must further deepen our collaboration between INNOTECH and its group companies as well as among the group companies themselves to make our operations more efficient and expand our business. We will divide the segments by closely related products and services and appoint cross-organizational top management responsible for each segment so that operations and procurement activities are consolidated and the business portfolio is optimized in an accelerated manner, thus, synergy effects within the segment are created.

The electronics industry where we operate our business is a fast and highly growing market as smartphones become more sophisticated, use of semiconductors devices is increasing for electric and hybrid cars and smart home applications, demands for servers and data centers are expanding as more data is being created, and the artificial intelligence (AI) makes progress and being introduced to various areas. While our market is fiercely changing, INNOTECH will continue to grow with its market but by keeping up with its changes in a speedy and an aggressive way.
We appreciate our shareholders' continued support and cooperation.
*1 Abbreviation of Environment, Social and Governance.
*2 Sustainable Development Goals
*3 Creating Shared Values
June, 2021
President and Representative DirectorNobuyuki Otsuka