Medium-Term Vision

What results have we achieved as we completed the third year of the mid-term management plan?
We have made major progress on our business portfolio transformation which was made based on the "Three Transformations".
INNOTECH Group, since its foundation, has been focusing on the Japanese semiconductor industry; however as the environment surrounding the industry drastically changes, we have pursued the mid-term management plan toward the FY2018 in order to realize our mid-term and long-term growth.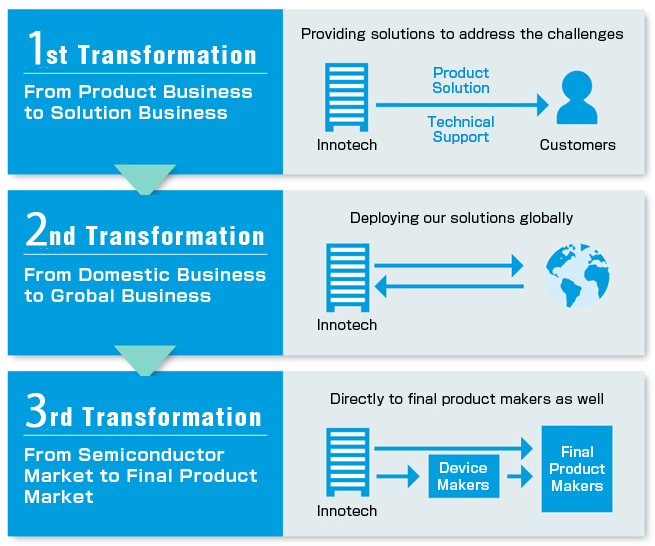 As we enter into the final year of the plan, we have assessed the achievements we have made in the past three years, and we can see a significant progress based on our "Three Transformations" which we have pursued as indicated in the chart below.
We came up with the idea of these "Three Transformations" since we felt that we would no longer be able to stay profitable as our market becomes mature and the price competitions become fiercer if we pursued our original business model as a technology device distributor. Therefore, we have acquired expertise which we did not have originally by mergers and acquisitions (M&As) so that we will be able to provide even more highly value-added products and services from the upstream of the manufacturing processes of our customers and expand our business base to overseas. These were the objectives of the mid-term management plan to ensure our continual growth.
Among the efforts we have made during the past three years, we withdrew from the electronic devices sales business and the HDD sales business whose sales amount were significant but in reality not profitable enough, which was the nature of the technology device distribution business; in the meantime, we made progress in the area of functional verification and the design consignment business, where we participate in our customers' planning and development stage of their products as a solution partner. Also, we made STAr as our subsidiary and our overseas business has expanded. As such, our business portfolio has significantly transformed compared to that of three years ago.
What kind of changes were brought to INNOTECH Group by our structural reform?
Our transformation from the "distributor" to a "manufacturer" changed our employees' business mind from "sales first" to "profit first".
The reform of our business portfolio affected our financial results positively as well. Since we withdrew from the technology device distribution business, while our sales amount did not change very much, our profitability has been increasing constantly and as a result, our business model is shifting to the "high-profitability" business model.
Further, our even bigger achievement is the transformation of each employee's business mind. Traditionally, we have always focused on "sales-first", but as we have transformed our business to the solution business, our awareness of "cost" and "profitability" permeates through the whole group companies. With such awareness, each employee has become more creative on "how to make profits" and "how to create values" than ever and such awareness is expected to contribute to the intellectual creativity of the entire INNOTECH Group.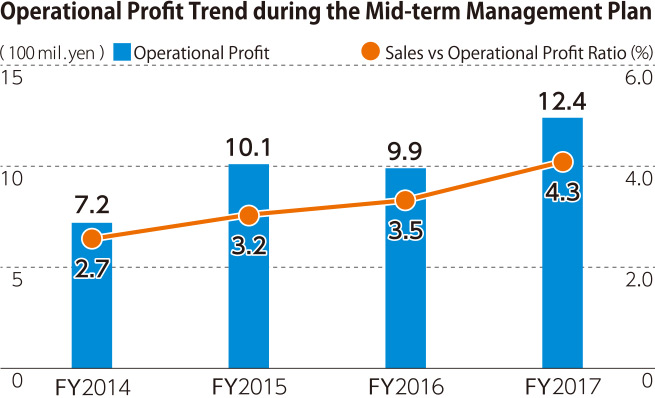 What are the directions and the underlying ideas of the new mid-term management plan which will take off from the next fiscal year?
Based on the improved business structure during the current plan, we will further enhance our profitability and expand our business scale as well.
This fiscal year is the final year of the current mid-term management plan, and therefore, we need to set up the new mid-term management plan which will start from the FY2019 (the year ending on March 2020), taking our overall achievements from the current plan into consideration.
We are still deliberating the new plan, but we will aim at further enhancement of our already-increasing profitability and expansion of the business scale in the new plan.
By resolving various challenges in the industry and the society and providing even higher value-added products and services, we will enhance our profitability of each of our business domain, will serve growing customer base in broader business areas and in larger markets including overseas to increase our business scale.
In our new mid-term management plan, we will foresee how the society and our customers will evolve, define the business areas and markets we must focus on, and execute concrete measures and strategies for us to grow. And we will make necessary investments with solid planning, taking various risks into account. In February 2018, we have announced our basic capital management policy. Based on this policy, INNOTECH will maintain as well as enhance our sound and highly profitable nature and further increase our corporate value.
What will be our actual policy to increase our business scale?
Overseas deployment mainly in the Chinese market and expansion of our business base around the semiconductor industry are expected to bring us a sure growth.
In the new mid-term management plan which will take off in the FY2019, the major pillars are "overseas deployment" and "expansion of our business base".
As for the overseas deployment, the Chinese market remains as the most important for us. Currently, the Chinese economic policy prioritizes its domestic capitals and thus, the key for us it to establish partnerships with the Chinese domestic capitals. Leveraging our subsidiary, STAr, whose home base is Taiwan and CVP Holdings Limited, which is our capital and business partner, INNOTECH Group will further strengthen its marketing presence in China.
As for the expansion of our business base, we will seek new business areas where the risks such as their initial investments are relatively low and highly technical expertise is required around the semiconductor industry for which INNOTECH has been always strong. INNOTECH Group has enhanced its capabilities to make technically viable proposals to our customers and contributed to the development of highly sophisticated semiconductor devices by adding companies with original expertise, such as in the area of noise analysis and image processing, into INNOTECH Group. As the IOT society emerges, highly sophisticated semiconductor devices will be required than ever before and highly unique and niche expertise will be sought after. INNOTECH will seek for partners with such expertise and establish ties with such partners, including by M&As, and enhance our capabilities to create values as an enterprise group.
Lastly, what is your message to our shareholders and investors?
Seeking an optimal balance between our investment for growth and our internal reserve, we will strive to maximize our shareholders' value.
In the current mid-term management plan, in order to realize a bold structural reform, we have planned for major investments, such as M&As. During the past three years, while we have made various investments in various scales, we have not engaged in major M&As and our investment amount was thus smaller than originally expected. On the other hand, as we transformed our business portfolio, we have expanded our equity capital and we have no debt; therefore, our internal reserve is accumulating than originally planned.
In order to realize the strategy for growth as previously stated, we plan to make our investments as necessary and flexibly, while we will maintain an appropriate level of internal reserve and provide stable returns to our shareholders as our priority at the same time. Our year-end dividend of the FY2017 was increased from 10 yen to 20 yen per share and our full-year dividend of the FY2017 was 30 yen per share, including the interim dividend which was 10 yen and already distributed.
INNOTECH Group will continue to distribute dividends stably based on our capital management basic policy and pursue our strategy for growth based on the new mid-term management plan, so that our shareholders' value will be maximized. We appreciate our shareholders' and investors' continued guidance and support.Thank you very much.
June, 2018
President & CEOToshihiko Ono