Message from Top Manager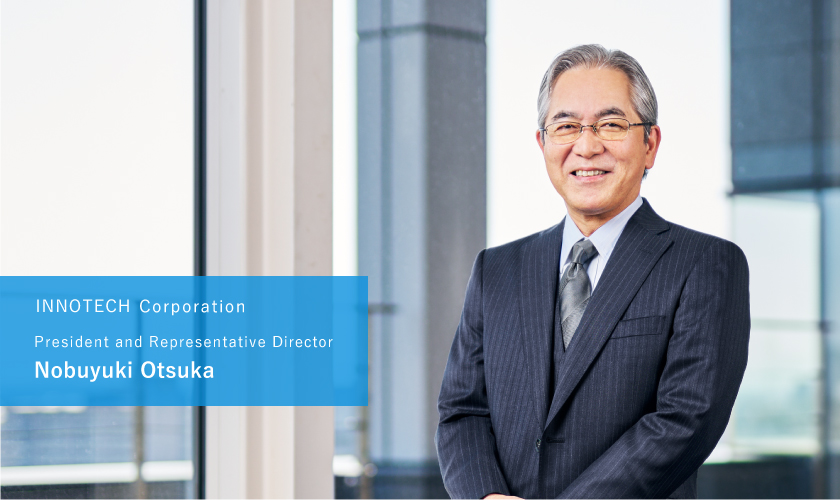 INNOTECH will leverage the results of our bold structural reform to our continuous growth.
Please describe the environment surrounding INNOTECH of the FY2017 and our results.
In the FY2017 (the year ending on March 2018), our economy was in a slow recovery pace underlined by the stable business results of many companies, improvement of employment, and solid consumer spending.
While our business was affected by the withdrawal from the HDD sales business, INNOTECH Group focused on more highly value-added products and services, cultivated new customer base and strengthened our ties with existing customers. As a result, our subsidiaries, such as GAIO TECHNOLOGY, STAr Technologies ("STAr"), and SANEI HYTECHS achieved good financial results. Also, the model-based development which is our newly business area and the acquisition of BigValley by IT Access contributed to our results.
As a whole, our sales was 28 billion 735 million yen (YoY -0.4%), our operating profit was 1 billion 244 million yen (YoY +24.5%), our ordinary profit was 1 billion 208 million yen (YoY -3.4%), and our profit attributable to owner of parent was 721 million yen (YoY -10.6%) for the year of 2017.
Please tell us about our future strategy for growth and our business outlook of the FY2018.
INNOTECH Group has pursued a bold structural reform based on the mid-term management plan which was announced in November 2014 in order to achieve continuous growth as our business environment changes. The FY2018 will be the final year of our mid-term management plan. As the plan was announced three years ago, we have transformed our business model from the distribution business to the solution business along with consulting. During the transformation process, we have experienced a temporary decrease in sales due to withdrawals from some of the businesses we used to perform and delays in new business launches; thus, it will be tough to achieve the numerical goals we have set up in the plan. However, our profitability is improving as we have reviewed and updated our business portfolio and our next mid-term management plan will take such results into account. We appreciate our shareholders' continued support and cooperation. Thank you very much.
June, 2018
President & CEOToshihiko Ono