Message from Top Manager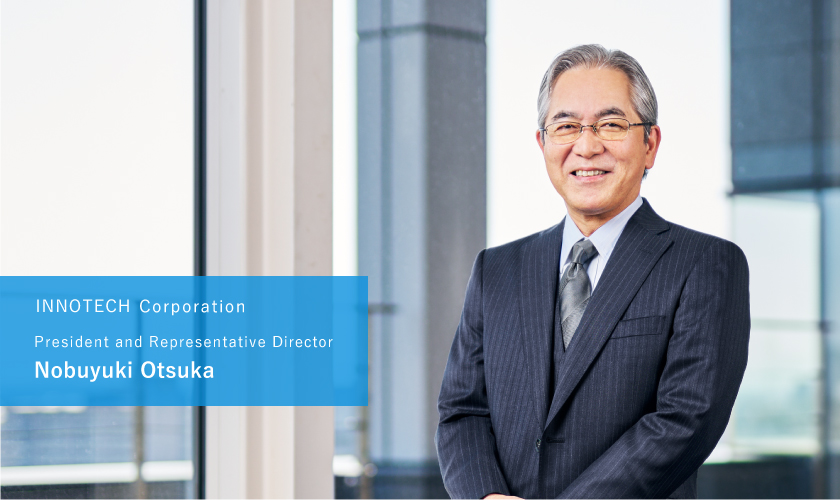 "We will nurture our new businesses, and continue to grow".
Please describe the environment surrounded INNOTECH during the FY2018 and the results.
In the FY2018 (the year ending on March 2019), our economy was in a slow recovery pace underlined by the stable business results of many companies, improvement of employment and so on. However, the outlook remains still unclear due to the effect of trade frictions between the U.S. and China to the world economy and possible slowdown of the economy in the emerging countries in Asia.
While our in-house developed test system business which is one of our core businesses was affected by the recession of the semiconductor market and thus its demand declined in the fourth quarter, in the end, however its sales of the fiscal FY2018 substantially surpassed that of the FY2017.
Also, the results of subsidiaries such as GAIO TECHNOLOGY and STAr Technologies (STAr) remained stable.
As a result, our sales was 29,804 million yen (YoY +3.7%), our operating profit was 1,955 million yen (YoY +57.1%), our ordinary profit was 2,459 million yen (YoY +103.5%), and our profit attributable to owner of parent was 1,493 million yen (YoY +107.1%) for the year of 2018.
Please tell us about your business outlook in the FY2019.
The economy of the FY2019 is expected to suffer internationally and domestically due to the continued trade frictions between the U.S. and China and the increase of consumption tax in Japan. In addition, the memory market keeps declining from the latter half of the year 2018 and we expect that our test system business whose high profitability has been the driving force of our business will also be affected severely.
However new businesses such as the electronic money settlement system of IT ACCESS and the AI camera system of Regulus look promising. Along with our new medium-term management plan, INNOTECH will continue to work on such new businesses and their profitability.
We appreciate our shareholders' continued support and cooperation. Thank you very much.
June, 2019
President & CEOToshihiko Ono