Message from Top Manager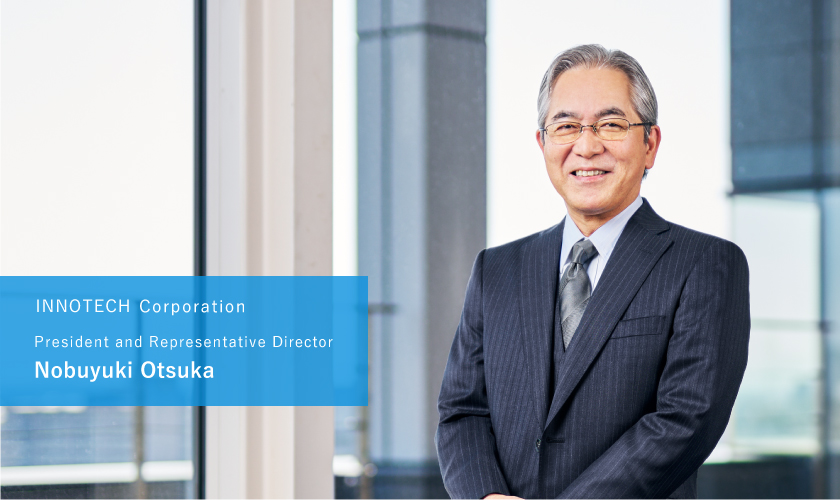 We will cope with our environment changes and lay the groundwork for our mid-term and long-term growth.
Our Business Environment and Financial Results in the FY2020
As the COVID-19 kept expanding, the economy in Japan in the FY2020 declined rapidly due to restrictions of social and economic activities. The situation showed some improvements temporarily with various governmental measures and resuming of social and economic activities, while our economic conditions still remain tough. Also, extremely tight demands for semiconductors along with the progress of IoT and recovery of production of automobiles cast a shadow over the economy.
As for INNOTECH Group financial results of the FY2020, despite the impact from the novel COVID-19 pandemic, the demands for test systems for memory products improved and sales of the cloud settlement system of IT ACCESS remained solid while the reliability assessment appliance for foundries and consignment service business for automobiles declined.
As a result, our sales of the FY2020 was 32,536 million yen (YoY +4.4%), our operating profit was 1,954 million yen (YoY +17%), our ordinary profit was 2,460 million yen (YoY +29.8%), and our profit attributable to owners of parent was 1,534 million yen (YoY +31.3%).
FY2021 Financial Results Outlook
In the fiscal year of 2021, we expect that our revenue will increase from the test systems for memory products as well as from the embedded software verification tools and verification service business as the demands of automobile industry will recover. On the other hand, procurement matters will remain as a concern due to the world-wide shortage of semiconductor devices and delays in deliveries and postponements of orders of materials, components, and manufacturing consignments due to the prolonged COVID-19 pandemic and their substantial impacts on certain businesses.
As our business environment remains unclear and volatile, INNOTECH Group will continue to optimize its business portfolio and to strengthen the synergy effects among the group companies to remain flexible and agile with the changes. As a part of such efforts, INNOTECH will update its business segments in the FY2021.
We appreciate our shareholders' continued support and cooperation. Thank you very much.
June, 2021
President and Representative DirectorNobuyuki Otsuka